The NHL trade deadline is coming up on February 25th, and that means teams are going to have to make a decision on whether they're going to be buyers or sellers, which will have a big impact on how their team looks moving forward. A lot of that depends on what they do with their upcoming unrestricted free agents, who can be big trade baits. A struggling team can trade their UFAs for assets to replenish for the future, while contenders take them as rentals to make a playoff push. And there's the big question of if UFAs will sign back with their teams or hit the open market. Here, I take on the top ten most interesting unrestricted free agents, and I make my prediction on whether they'll be traded at the trade deadline, re-signed by their original team, or hitting the open market.
10. Kevin Hayes
Current team: New York Rangers
Position: C
Age: 26
Current cap hit: $5.175 M
Kevin Hayes is one of the better young players on a rebuilding Rangers team. Perennially scoring between 35 and 50 points and third on the team in scoring, Hayes is looking for a big payday. He's not one of the biggest names in the NHL, but he's a consistent player, and this season he's scoring at a 0.82 points/game rate, which would be the highest in his career. He could be an intriguing target for another team, either through free agency or through a trade, which the Rangers could easily do to acquire new assets for the future. But they could also keep him long term. The Rangers have $19.6 million in projected cap space, which is not a whole lot, but they also don't have that many upcoming RFAs, none of the big names, and the only other notable UFA is Mats Zuccarello. New York could decide to go either way.
My prediction: Re-signed
In my opinion, Hayes is at the core of young players that the Rangers need to rebuild this team around. He and Brady Skjei and Jimmy Vesey are the center of the team moving forward, and it's probably in their best interest to sign Hayes themselves, and I believe that's what they're going to do.
9. Mark Stone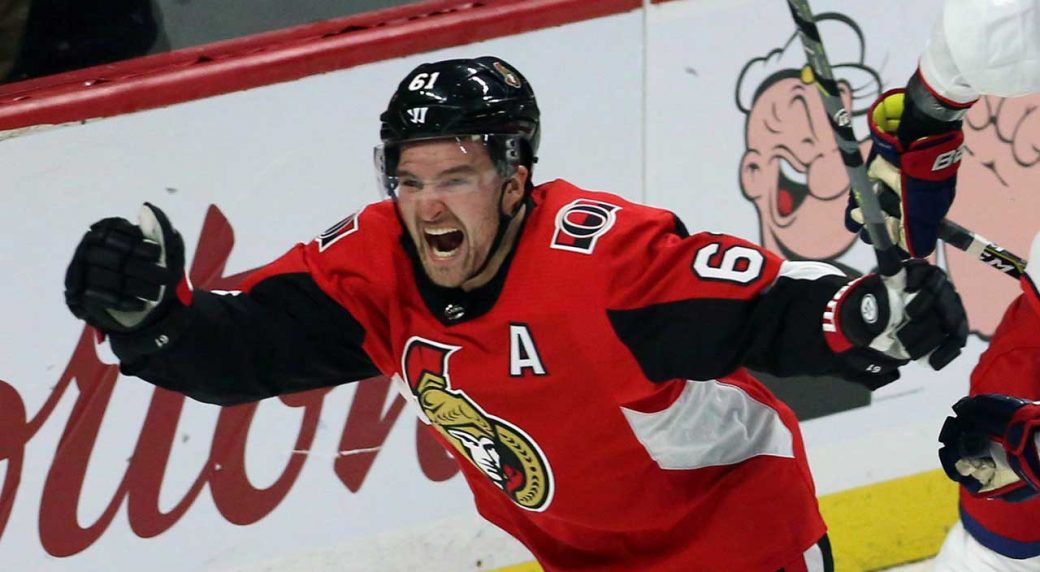 Current team: Ottawa Senators
Position: RW
Age: 26
Current cap hit: $7.35 M
The Ottawa Senators are one of the most intriguing teams at the deadline. Their situation is a unique one, and I'm interested to see how it'll turn out. Putting all the behind-the-scenes drama to the side, the situation on the ice is this: they're bad, currently last place in the league. Their depth for the future isn't overwhelming, either. Their AHL affiliate, the Belleville Senators, isn't anything to write home about, and their 2019 draft prospects look dire — their 2019 first-round pick, which looks like it's going to be a very high one, perhaps first overall, is going to go to the Colorado Avalanche. And yet, with all of this, they still have two of the most intriguing upcoming free agents. Mark Stone is a very interesting case. He has spent his entire career (parts of seven seasons) with Ottawa, and is an alternate captain. He's playing excellent hockey, and he's playing like it's a contract year: he is one goal away from his career high in goals (26) and eight points away from his career high in points (64), not to mention he is excellent defensively and should be in Selke conversation. He's the highest-paid player on their roster, but he's going to want more. So the big question: what is Ottawa going to do with him?
Money-wise, the Senators have some room next season. They're projected to have $34.7 million in cap space (though they do have 6 current UFAs and 3 current RFAs), though the big question will be whether the Senators have enough actual dollars. Stone could easily be re-signed with a raise, if the Senators make him a priority and make some adjustments with fringe players. There is also the luxury of Thomas Chabot and Brady Tkachuk still being on their entry-level contracts, which don't need to be worried about for another one and two years, respectively. Finding somewhere to offload that Bobby Ryan contract could also ease their monetary worries. But there is the chance that Stone might not want to stay, or the Senators might not be able to afford the price he is looking for. If they can't retain, it might be a good idea to look for a trade, especially considering their first-round draft pick isn't theirs.
My prediction: Re-signed
When you're a bad team, sometimes you have to pay your star a little more so that he'll stay and the team can be built around him. That's what I think the Senators need to do with Stone. Give him his money, start with a strong top, and work down from there. The Senators are an organization that needs a little stability, and if giving Stone a little bit more will help with that, I think you take it. This guy could be the captain some day, and the Senators should do whatever it takes to keep him.

8. Jordan Eberle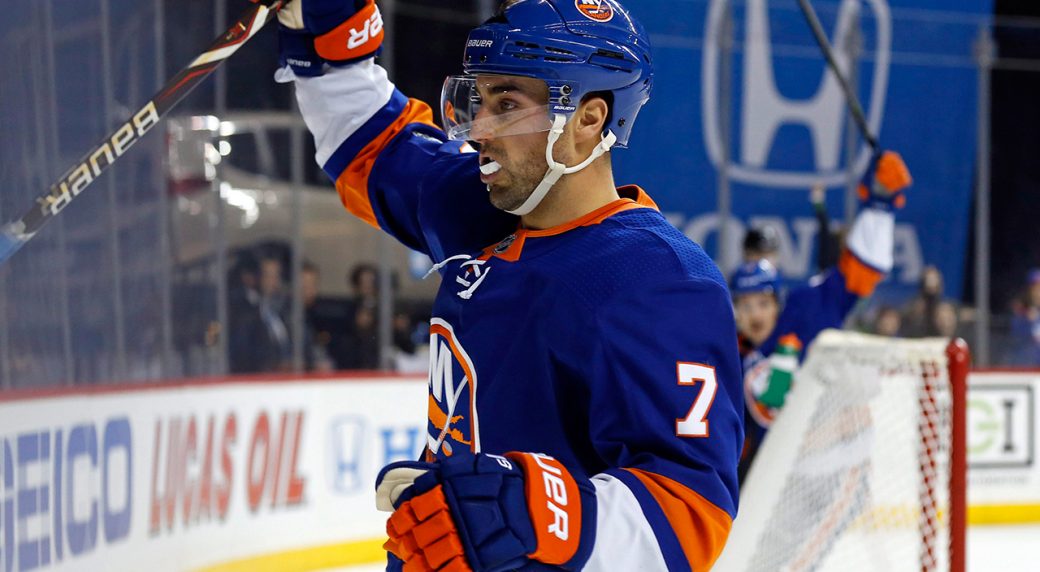 Current team: New York Islanders
Position: RW
Age: 28
Current cap hit: $6 M
The man who was infamously traded from the Oilers for Ryan Strome is set to be a free agent this summer. The New York Islanders are far exceeding expectations this year, currently sitting first in the Metropolitan division, so trading away one of their top scorers seems unlikely. Eberle, the highest-paid forward on the team, will be looking for a raise. Unfortunately for him, while the Islanders are succeeding, he is not having the breakout offensive year typical of pending free agents. He has 13 goals and 26 points, and it's not looking like he'll get anywhere close to his career highs of 34 goals and 76 points. Regardless, he's still looking for an upgrade on the basis of his career body of work; it's just a matter of whether the Islanders will be willing to pay him or not. They have a projected $31.7 million in cap space, but they do have Brock Nelson and captain Anders Lee also becoming UFAs this summer, along with Anthony Beauvillier becoming an RFA this summer and Mat Barzal becoming an RFA the year after that.
My prediction: Open market
Eberle is going to want more than New York is willing to pay, and they'll also have to deal with a number of other contracts. At the end of the day, Eberle will walk and test the open market; there are a number of teams who will be willing to pay for a top-six winger.

7. Joe Pavelski
Current team: San Jose Sharks
Position: RW/C
Age: 34
Current cap hit: $6 M
At first glance, it seems like this one should be easy. The Sharks are second in the Pacific division and third in the NHL, primed for a deep playoff run. Pavelski is the captain, and this is the only team he's ever played on. He's 34 years old, coming up on the latter part of his career. No way he signs anywhere else. But it's not so simple. The Sharks, as is the case with a lot of really good teams, are really tight to the cap. Pavelski makes $6 million, and he might be looking for a raise. Evander Kane and Marc-Edouard Vlasic both have $7 million cap hits, Brent Burns has a $8 million cap hit, and Logan Couture has a $6 million cap hit that increases to $8 million next season when his extension kicks in. The team is projected to have $21.9 in cap space next season, but they have four other UFAs and four RFAs, most notably Timo Meier, who is looking for a huge contact coming off his ELC. So of course Pavelski will want to stay, and everyone involved will want him to stay. The only question is whether or not they'll have the money for it.
My prediction: Re-signed
Pavelski will stay with the Sharks, but it'll be a shorter deal, and his raise won't increase by much, if it all.

6. Wayne Simmonds
Current team: Philadelphia Flyers
Position: RW
Age: 30
Current cap hit: $3.975 M
Wayne Simmonds has been rumored to be on the trading block all season now, and for good reason. The perennially high-scoring tough winger is due for a huge pay raise this offseason, one that the Flyers will probably be unwilling or unable to pay. While they've been successful as of late, the season overall has not been what the Flyers have been looking for, and they're looking forward to the future. New coach, new GM, and a new, very young core led by Nolan Patrick, Travis Konecny, and Carter Hart. They do have $31.7 million in projected cap space, but a lot of that is going to need to go to those young players when their ELCs are up. It's possible that Simmonds stays in Philadelphia, but it doesn't appear they're going to go in that direction.
My prediction: Traded
While there is still a slim chance at playoffs, it's not worth it to go for it. In the long run, it's much better for the Flyers to plan for the future. Thus, I believe Simmonds will be traded, and the Flyers will get a trove of assets for him. Fans will be sad to see him go, but they weren't going to be able to afford his raise anyway.

5. Matt Duchene
Current team: Ottawa Senators
Position: C
Age: 28
Current cap hit: $6 M
Matt Duchene has been through a lot. After an extended period of time in trade speculation and having a bad time on a struggling Colorado Avalanche team, Duchene was finally traded in a blockbuster deal — the Senators got Duchene from the Avalanche, the Nashville Predators got Kyle Turris from the Senators, and the Avalanche got two players and a pick from the Predators and two players and two picks (including the first-rounder) from the Senators. Duchene had said he wanted to play playoff hockey, but unfortunately for him the Avalanche got better and made the playoffs once he left, and the Senators sunk to the basement, not to mention all the off-the-ice drama. But regardless, Duchene has been playing excellent hockey. He had 59 points last year with both Colorado and Ottawa, and he has 53 points this year. He's in his prime years, and he's looking for big money. But of course, the question with Ottawa remains is if they can pay him. There's also the question of if he wants to stay. If there's knowledge that he won't remain in Ottawa, will they trade him? They could get a lot of good assets to really help replenish their farm system. But is that admitting that the trade was a failure?
My prediction: Open market
The Senators will try to re-sign both him and Stone. They won't want to admit that the big trade didn't work out so well, and they'll have confidence in their ability to bring them both back, so neither of them will be traded at the deadline. But they'll only manage to keep Stone- Duchene won't stay. After everything that's happened to him, he'll want a fresh start from his fresh start. He'll hit the open market, and someone will pay him the big money, it just won't be Ottawa. And Ottawa, at the end of the day, will come out with nothing from the Duchene trade, and they still won't have that first-round pick.

4. Erik Karlsson
Current team: San Jose Sharks
Position: D
Age: 28
Current cap hit: $6.5 M
Erik Karlsson was traded to San Jose in a blockbuster deal right before the season began, and he's a big part of helping the Sharks prime for a deep run into the playoffs. But he'll be a restricted free agent at season's end, and he's slated for elite-level pay, looking for a contract between $8-11 million. At the surface level, there doesn't seem to be a reason he wouldn't want to stay in San Jose. The area is very nice, the team is good, and he gets to play in tandem with Brent Burns, another elite defenseman. But as previously stated, San Jose is seriously tight to the cap, with other big contracts to have to pay this summer. If they want to keep him (and if he wants to stay), they'll probably have to move some pieces around.
My prediction: Open market
It'll be a one-and-done with Karlsson in San Jose. Karlsson deserves and will get elite-level money, and San Jose just won't have the room, and Karlsson will test the open market.

3. Jeff Skinner
Current team: Buffalo Sabres
Position: LW
Age: 26
Current cap hit: $5.725 M
Playing on Jack Eichel's wing has done wonders for Jeff Skinner's game. This season he has 49 points and trails only Alex Ovechkin in goals in the NHL. In all likelihood, he'll break his career high point total of 63 and crush his career high goal total of 37. Skinner has assisted in the Sabres' meteoric rise from the basement into playoff contention, and will likely make all attempts to re-sign him. Buffalo has $28.5 million in projected cap space next season, which is a fair amount. However, Buffalo has a whopping seven RFAs coming up this summer. Jason Pominville's contract is also up, and he'll likely go unsigned and come off the books completely. So Buffalo could re-sign Skinner, and playing with someone as talented as Eichel on a young up-and-coming team is very tempting. But Skinner will want a big raise, and that might be a bind with all those RFAs.
My prediction: Open market
After just one year with the Sabres, Skinner will hit the open market. They'll try to re-sign him, but it just won't work out, and he'll find his raise elsewhere.

2. Sergei Bobrovsky
Current team: Columbus Blue Jackets
Position: G
Age: 30
Current cap hit: $7.425 M
Columbus is by far the most interesting team to watch at the trade deadline. The relationship between Sergei Bobrovsky and the team — specifically with head coach John Tortorella — is contentious at best. Bobrovsky has left the bench during games, hasn't shown up for practices, and was suspended by the team for a short time. Not signs of a great relationship. It seems clear that Bobrovsky doesn't want to be there, and does not plan on re-signing. In addition to that, he wants a hefty raise on his already large salary; currently, only Henrik Lundqvist and Carey Price make more in the NHL among goaltenders. That's a big sum. If the Blue Jackets were bad, the answer would be easy: trade him, get the sun and the moon as the return. But it's not that simple, because the team is doing really well. They're third in the Metropolitan division and looking to go on another playoff run. So do you hold onto him for that run to the playoffs, or do you trade him now for the assets and look forward to the future?
My prediction: Traded
The Blue Jackets aren't going to let him walk for nothing. It's a big risk, but if they can snag another goaltender in the trade, they can make it work. Knowing that Bobrovsky doesn't get along with the coach and won't re-sign, it will be best to cut the cord now. Bobrovsky is traded by the deadline.

1. Artemi Panarin
Current team: Columbus Blue Jackets
Position: LW
Age: 27
Current cap hit: $6 M
Artemi Panarin is the big fish on the market. He's a high-scoring offensive winger currently leading Columbus in scoring. He tallied 82 points last year and currently has 60, looking to be on-pace to break that career high. He's a gamechanger, but it looks like he doesn't want to stay in Columbus. He won't talk an extension during the season, and it's suggested that he doesn't like the area. Of course Columbus wants to keep him, the entire city has gone to bribery to try and convince him to stay (Vodka for life, anyone?). But it's looking like he won't remain a Blue Jacket beyond this season, and the question is the same as Bobrovsky: do you keep him in hopes of making it deep into the playoffs and risk losing him for nothing, or do you trade him for the sun and the moon?
My prediction: Traded
Both Bobrovsky and Panarin are gone by the deadline. Despite how good Columbus is, they're going to cut their losses and get as much as they can for the two Russians before they walk.

---
Header Image via NHL.com